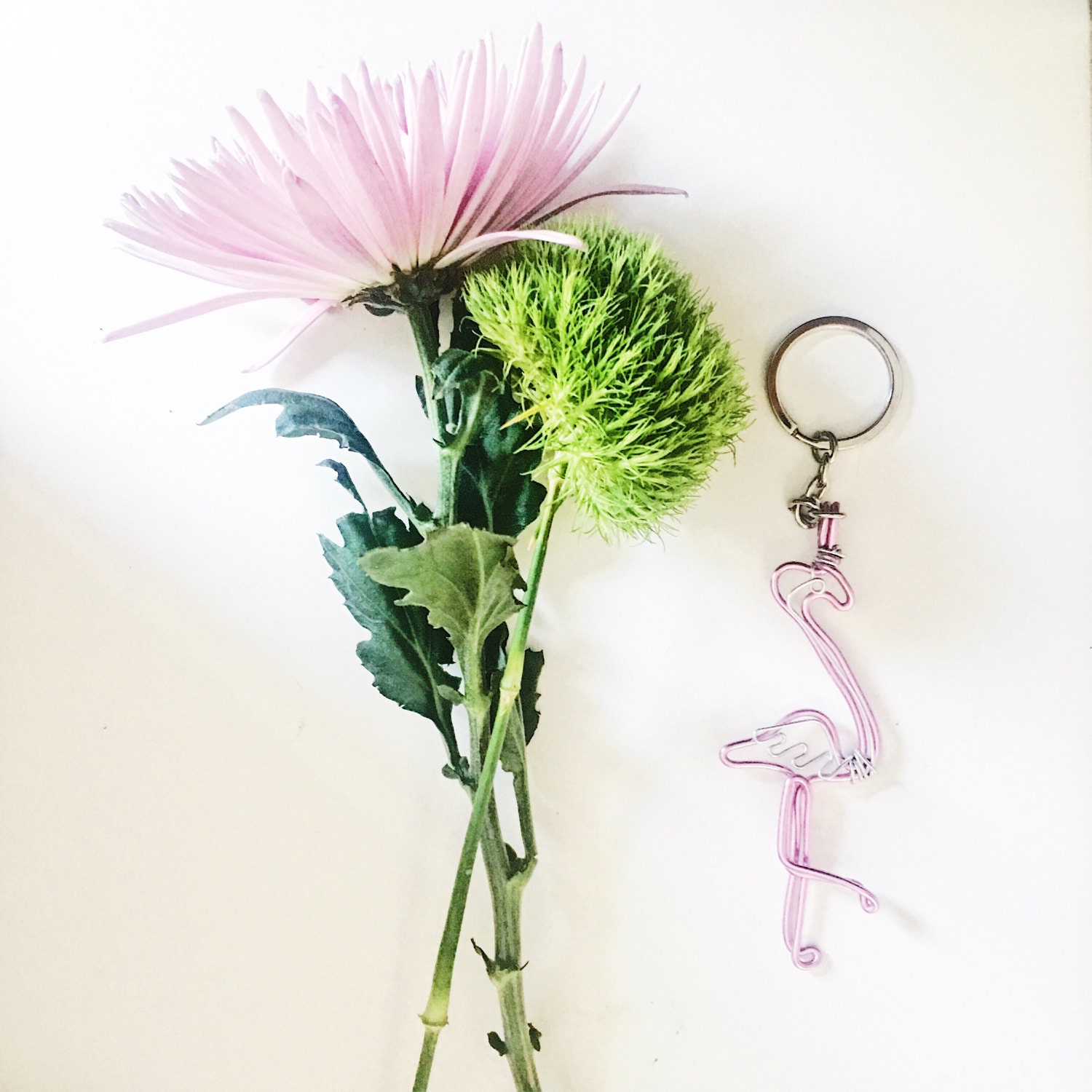 Details
We are New York-based artists who are inspired by the daily tangles of people moving through the city. Our passion for people guided us into making lifestyle wire-sculptures that help our customers celebrate and display their loved ones' passions and personalities.

Flamingo Keychain handcrafted with pink and silver wires.

Dimensions: 4" tall

This keychain is perfect for the aviary enthusiasts in your life, and is a great reminder to stand tall and stay balanced, whether it hangs on a beach bag or a brief case.

Once upon a time there was a flamingo as pink as a ballerina who lived in the middle of a tropical lagoon. All day he would switch from one long, tapered leg to the other and preen his feathers. Grooming was very important to him, because he wanted to be an Olympic gymnast (he was told by all the alligators that it was a perfect career for someone with such perfect balance).

When a circus came to visit a nearby town, the flamingo realized that this could be his big shot to be noticed. He glided past wide, waxy leaves and looping vines until he saw a candy-striped that rose above the canopy.

He asked to meet the ringmaster. A collection of clowns thought it'd be fun to watch the flamingo try out for the circus, and so they brought him to their leader.

The ringmaster was mustachioed and thicker than he was tall.

"I," the flamingo said, "Am Ringo the Flamingo, and I want to join your circus, so that I may be discovered. I've been told that's very important for athletic performance.

"Can you juggle?" asked Mr. Saturn.

"I am a flamingo," said Ringo.

"Can you tame lions?" asked Mr. Saturn.

"I am a flamingo," said Ringo.

"Can you give elephants peanuts?" asked Mr. Saturn.

"I am a flamingo," said Ringo.

"Well, what can you do?" asked the clowns.

"I can balance from high places," said Ringo.

Mr. Saturn sent the clowns away to fetch a lyra, which is a hula-hoop that hangs from the ceiling (and not someone who cheats at poker). Ringo flapped once, twice, thrice, and finally sat himself on the hoop.

"I have humans who can do that!" Mr. Saturn shouted.

"What makes you think I should hire you?"

Ringo frowned. "How many humans would volunteer to be a keychain in the circus gift shop?" Ringo asked.

Mr. Saturn couldn't think of none.

Ringo learned how to hang from all sorts of things—backpacks, house keys, the occasional earlobe. Mr. Saturn admitted Ringo was the most versatile balancer he'd ever employed. Ringo was made a full-time act in the circus, with benefits, and was discovered.

We created this flamingo keychain after we heard of Mr. Ringo's success in the last Olympics in Tampa. Keep in mind that it isn't in his exact likeness—that would require some stuffy sounding papers and legal tender. And besides, how many flamingos do you know who are four inches tall?